The Marketing Exspurts
The Marketing Exspurts
Would you entrust your marketing to somebody that's going to tarnish your reputation by using abusive marketing techniques?
Unfortunately spammers claim to be marketing experts, offer to sell their services to market your product. Using them will see your product spammed out indiscriminately to forums, contact lists and web forms. In most cases these recipients will have no interest in your products and these communications will be seen as an annoyance and will be reported. In turn this affects your brand, while the spammer has nothing to lose.
Artists Against 419 is in a unique position in that it is not funded, does not rely on marketing and has nothing to sell. We address certain types of consumer abuse.  In order to assist the public, we allow them to reach us via a contact form. We state:
If you want to let us know about a fake web site. Please include the URL so that we can check it.

If you have a question about the AA419 web site or the work we do.
We also state:
Spam: Any spamming of the contact form will be treated as allowed for in our Privacy Policy which may include blacklisting and sharing of such information.
Despite this warning, we still have marketing experts "commending us" on our website and offering to market and sell our products, do SEO for us etc. Clearly this is spamming. It wastes our time. Yet an opportunity lurks, we can warn the public about these "exspurts" (calling them experts would be an insult to true experts) and turn this into useful data.
Here is our new list,  meet "The Marketing Exspurts".
---
monkeydigital.co
Monkeydigital has been spamming our contact pages regularly. They have also been reported to their registrar for violations of their acceptable usage policy.
Their offers includes forum spamming ("Forum Posting Service"), also offers to do Negative SEO where they smear the customer's competition. Would you wish to be associated with such a service and risk being exposed, potentially get the regulators on your back? We thought not.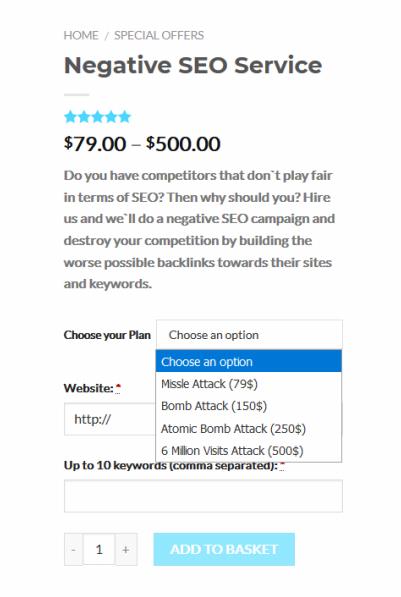 Subject: unique domains backlinks package
Date: Thu, 07 Nov 2019 15:06:03 +0000
From: Vaughn Powell <noreplymonkeydigital@gmail.com>

Message:: When you order 1000 backlinks with this service you get 1000 unique domains, Only receive 1 backlinks from each domain. All domains come with DA above 15-20 and with actual page high PA values. Simple yet very effective service to improve your linkbase and SEO metrics.

Order this great service from here today:
hXXps://monkeydigital. co/product/unique-domains-backlinks/

Multiple offers available

thanks and regards
Mikle
support@monkeydigital.co
================================
IP : 141.101.143.63 = PureVPN-NET
---
fiverr.com/axyyko
Subject: You Need Leads, Sales, Conversions, Traffic for your site ? (from Karri Mcnutt at 195.181.170.72)
Date: Thu, 07 Nov 2019 11:39:46 +0000
From: Karri Mcnutt <karri.mcnutt15@yahoo.com>

Message:: Hello,
My name is Karri Mcnutt, I want to know if: You Need Leads, Sales, Conversions, Traffic for your site aa419.org ?
I will Find Leads that Buy From You !
I will Promote Your Business In Any Country To Any Niche !

SEE FOR YOURSELF==> http://bit.ly/Promote_Very_Efficiently
Do not forget to read Review to convince you, is already being tested by many people who have trusted it !!
Kind Regards,
Karri Mcnutt

UNSUBSCRIBE==> http://bit.ly/Unsubscribe_Sales
================================
IP : 195.181.170.72 = FRANKFURT-INTERXION
"Karri Mcnutt" has chosen to hide her link to evade spam filters and make reporting slightly more difficult. However, it turns out to be hXXps://www.fiverr.com/axyyko/promote-your-business-very-efficiently-all-over-the-world-and-in-all-niches
Further "Karri" turns out to be Fiver user hXXps://www.fiverr.com/axyyko with a template photo.
Who will you hold responsible when your marketing campaign explode? A template photo? Exspurt abuse level marketing achieved.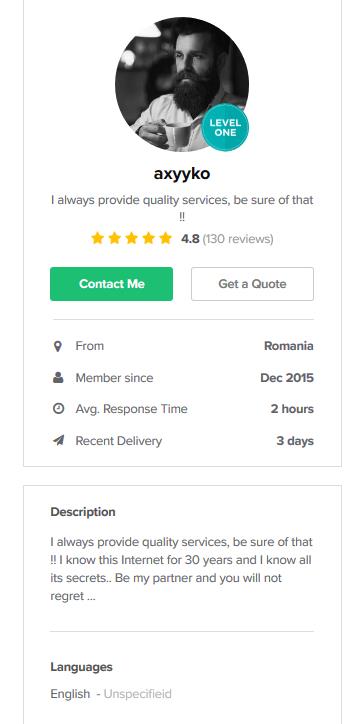 At https://www.ripoffreport.com/report/florin-frunzareanu/west-palm-florida-yahoodotcom-1478807 we find this clue:
So, after much review, it was bots coming to the site not live people and of course, he's going to say it was my website.

I purchased

FROM: FLORIN FRUNZAREANU

FROM: frunzareanuflorin@yahoo.com

AMOUNT:$243.00 on May 2, 2019

AMOUNT: $481.00 on April 9 2019

I asked him for a refund and guess what? he never responded ever again, so avoid this guy like the plague
Good advice. Somebody with zero ethics before you start with them, won't suddenly develop ethics because they have your money.
---